This presentation will be in Hungarian!

Celebrating its 100th anniversary in 2021 Ersa has pioneered soldering technology since its very beginnings and developed this technology into an industrial sector. Today Ersa has become the no. 1 in the industry being a system supplier of soldering technology with the most comprehensive portfolio and a global sales and service network. As an innovative technology provider for electronics manufacturing, Ersa sets decisive standards under the claim "GLOBAL. AHEAD. SUSTAINABLE.", to fuel megatrends such as electromobility, 5G mobile communications standard, digitalization and automation.
On the occasion of InnoElectro 2022 we will present the brand-new Ersa process technologies for the first time in Hungary:
VERSAFLOW ONE – the ONE for EVERYONE!
VERSAFLOW ONE is the new entry model into the world of VERSAFLOW inline selective soldering machines. Its flexible, future-proof configuration offers more quality, performance, productivity, variability as well as first-class service and support through the worldwide Ersa network.
Thanks to improved heating in the cross profile, the machine's power requirements have been significantly reduced, resulting in energy savings of 10%. The VERSAFLOW ONE is available with one or two soldering modules and the proven Ersa features: such as automatic nozzle activation, process camera, IR bottom-side heating. Another highlight is the x-variability version (2-stopper solution also available as an option), which leads to a significant increase in throughput - a unique feature in the entry-level class (available: spring 2022). The VERSAFLOW ONE thus allows productivity and cost-effectiveness to be further increased in any electronics production with fast setup and intuitive operation.
HOTFLOW THREE – a new era for reflow
With the new HOTFLOW THREE, Ersa adds another chapter to the long success story of its reflow soldering systems. Unique selling point is the SMART CONVECTION POWER UNIT. The exclusively developed motor and control unit ensures an optimized soldering profile. Single zones can be controlled individually, which enables perfect alignment with the requirements of material and solder paste. As the SCPU® only consumes the power that is actually needed, the energy input is used optimally.
Another highlight is the innovative cleaning system with the new SMART ELEMENTS® filtration, which ensures better handling, longer service life and extended maintenance intervals. All along the line, the intelligent cleaning and filtering system eliminates unwanted residues and impurities.
The HOTFLOW THREE will be available in several versions covering a wide range of requirements right from the market launch and can also be customized in terms of transport.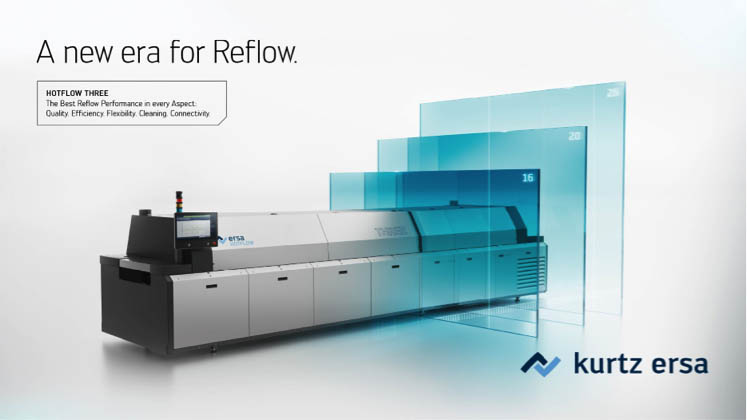 i-CON TRACE – The missing link in hand soldering
i-CON TRACE is the world's first IoT soldering station that enables full traceability during manual soldering. With integrated WLAN, Bluetooth and network card, it offers 100% connectivity in the manufacturing process. Every soldering process is electronically recorded and documented: PCB, component to be processed, soldering tip used, process temperature and soldering time. The possible connection to an MES allows integration and storage of soldering parameters used in complex, networked manufacturing processes that already run via an MES. Via a mobile app, the i-CON TRACE can also be used like a conventional stand-alone soldering station. With 150 W heating power, the i-CON TRACE offers superior performance and a stable temperature profile. Heating element and soldering tip of the i-CON TRACE can be changed separately, - a clear cost advantage. The patented Tip'n'Turn concept of the i-CON TRACE soldering tips enables lightning-fast tip changes without risk of burns.